25 Fun Activities For Kids At Home
If you're looking for kids school holiday activities at home to keep the kids busy and entertained or what to do with kids on a rainy day when you're stuck indoors, we've got you covered with these 25 fun indoor activities for kids at home.
From art projects and science experiments to fun indoor games and indoor activities at home for kids, you'll find many rainy day activities, fun indoor family activities, and things to do at home during school holidays and fun indoor things to do with kids at home here. So gather up your supplies and get started!
Some of the best fun activities for kids at home are:
---
Run a movie marathon
Who doesn't love a good movie on a rainy day? Shrek, Ice Age, Barbie, Star Wars, Lord Of The Rings, The Hobbit, Harry Potter, etc. The list for possible movies to watch with your kids is endless. And with streaming services such as Netflix, Stan, Foxtel and Disney+, it has never been easier.

Why not settle down in front of the TV with some awesome PG-rated movies when you are stuck indoors? Here are our picks for the best PG and G rated movies to watch with kids that are perfect for pre-schoolers, schoolers and teens.
---
Run a reading marathon
Running a reading marathon - a Readathon is one of the best rainy day activities for kids at home and any family that wants to get into reading.

Children benefit from reading because it helps them learn vocabulary and grammar; understand the world around them; build independence and become more academically successful in the future. In addition, kids become more creative and imaginative.

You can create a competition for the whole family to participate. The first person who reads the most within a certain time limit wins a prize.

If you're not in a mood for competition, read a good book together with the family and have a book club discussion about the characters or any interesting themes from the book.
One of the fun indoor activities for toddlers when you're stuck indoors is reading! Reading helps them learn vocabulary and grammar; understand the world around them while also boosting their imagination! Booktopia offers tons of good books for toddlers to learn about sounds, words and language.
If you need find a great book for your kids or teens, you can also visit AbeBooks! you'll be surprised by their collections of children's and young adult books and affordable books for kids and teens, including classic bedtime stories.
---
Make some seasonal crafts and DIY
Have a winter holiday or birthday coming up? Why not make some cards or decorations together with your kids? Gather some coloured paper, glue, scissors, coloured markers and stickers and get crafting!

Kids benefit from crafting! It helps improve a child's concentration and ability to follow instructions. Crafting can also help your child develop fine motor skills. Plus, it's a perfect rainy day activity for preschoolers and one of the top fun home activities for kids!

If you're stuck for new ideas on crafts for kids, check out this Pinterest Board.
Best Ideas For Seasonal Craft Projects for Kids
Winter, Spring, Summer and Fall; there's so much inspiration in the change of seasons.

Pinterest
---
Host a fashion show
Go through all the clothing that you and your kids have, come up with a few outfits and model them in the hall or living room! Sort through clothes to see which ones fit and which ones don't, and discover some pieces that you can wear more often.
Hosting a fashion show for your kids is not only fun but also great exercise! The best part about it? They pretend to be celebrities, strike funny poses and strut on stage. You can even grab your camera and run a photoshoot after the show.
It's a perfect indoor activity if you want them keep busy and out of trouble. This will also keep everyone active and entertained while giving the whole family plenty more bonding opportunities too!
---
Learn touch typing
Touch typing is a useful skill to have nowadays. With technology playing such an essential role in our lives, it's great to teach your kids to become tech pros from a young age. Start with these two free websites:

Jungle Junior is a fun, interactive touch typing game for kids. Check out videos and practice typing different letters. Kids can learn and practice their typing skills while learning the alphabet, so this resource is perfect for younger kids who are learning to read and write.

Dance Mat Typing is another superb resource for kids to try. Better for older kids who are well and truly familiar with the alphabet, this indoor activity from BBC combines animals with funny voices and accents (and lots of puns!) as well as fun typing activities.
---
Learn a new language
Learning a new language has been proven to be extremely useful for kids. According to Language Kids, language learning improves problem-solving skills, boosts brainpower and helps kids learn and appreciate different cultures.

Resources like Duolingo and Memrise are free to start learning a new language (or practice one you are currently learning) with activities and vocabulary games for various levels.

Choose from languages like French, Spanish, Italian, German, Chinese, Russian and more.

For learning and practising English, Lingokids offers a free plan of 3 videos, games or songs per day. This interactive app can be downloaded on your phone or tablet and is designed specifically for kids 2 to 8 years old.

Mindsnacks also offers many apps for learning various languages through gameplay. Parents and kids love these apps as they are free to download but come with paid upgrades.
---
Play board games or guessing games
Playing board games or guessing games is one of the fun activities for kids to do at home!
Almost every family has at least one board game at home. Sit on the couch or floor and indoor play games, such as Monopoly, Scrabble, cards or any other game you've got.

Aside from board games, you can also try playing a guessing game. Pick a theme, for example, animals or cartoon characters. Then have a go at giving out clues and getting the other person/people to ask questions to guess your animal/character.

You can even come up with a unique spin to the game, for example, printing out images and playing a 'Guess Who?' style game.
---
Make your own homemade indoor games
If the kids are stuck indoors, bored with the board games for kids you have at home, and you're looking for things to do at home during school holidays, there is nothing better than getting creative with your kids and making them feel like they're really involved in the process!
You can sit your kids down and make your own homemade indoor games for kids and fun games to play at home! Be it a card game, race to a hidden treasure, simple indoor game or funny indoor game for kids, let their imagination soar!

For your inspiration, check out this wikiHow article or this video below from the National Museum of Australia for the new ideas for kids on how to make your own indoor games at home.
You may even choose to make a video game and learn some coding and game design skills.
How to Make Your Own Video Game
Designing a video game is no small task, but if you have other ideas that are too good not to make, there is no better time than now to get started.
wikiHow
---
Fun balloon games to play at home
Don't let the balloon touch the ground
Looking for indoor game ideas for kids? Try our favourite balloon games to keep boredom at bay.
We all know the classic Keep the balloon up game, so this time try out the Don't let the balloon touch the ground game!
If you want to make it more challenging for older kids, they can juggle more than one balloon or keep one hand behind their back. See how long they last before giving up and then compare that time with someone else's score (or count).
Penguin waddle
Another fun and easy indoor game for kids is called Penguin waddle.
You can play it by placing the balloon between your child's knees and have them walk across without dropping it. You can even make things more challenging for older kids by putting some obstacles around.
If the balloon falls down before the kids complete their journey, they have to go back to the start. If you have multiple kids, they can be divided into teams to see whose team is faster so they enjoy some friendly competition!
---
Fun ball games to play at home
If you're looking for fun games to play at home with kids, it's time to play some ping pong! The game is called Catch the ping pong ball.
You'll need the plastic cups and a few ping pong balls or any small object that will fit in the plastic cup for this fun game of catch.
The game participants can start tossing the ball to each other to try and catch it in the cups, then take one step back to make this fun indoor game more challenging. A single player can simply throw the ball in the air and try and catch it!
---
Play indoor bowling
Have your kids ever wanted to bowl like a pro? Now's their chance! All it takes to set up your indoor bowling is some painter's tape, plastic cups (plastic bottles or paper towel rolls) as your bowling pins. Use any ball to bowl to knock down as many pins as possible.
You can create pyramids with those cups / bottles / paper towel rolls to make this fun indoor game for kids more challenging! Don't forget to keep track of the score. Otherwise, kids can simply aim to knock all the pins down in one turn.
---
Complete a puzzle
On rainy days, sit down on the floor or at the dinner or coffee table and complete a puzzle with your kids. If you don't have a puzzle at home, there are some free online puzzles and games you can try as well, like these:

Online Jigsaw Puzzles is a website specifically for online jigsaw puzzles that you can solve for free. Pick an animal or nature puzzle or anything else from the many available on their site.

Lovatt's Online Puzzles include sudoku, word search and other free play games.

BBC's CBeebies also have a variety of puzzle and colouring games available for free on their website.
---
Solve fun educational puzzles
Looking for a screen time activity that will keep your kids busy, entertained and teach them essential skills on a rainy day? Check CodeSpark Academy and their online fun and engaging educational puzzles!
CodeSpark Academy is the perfect and fun way to introduce your little one to the world of coding! With The Foos, they'll be able to work their way through fun and engaging puzzles, learn how to code, solve problems and the basics of coding along the way.
Kids 5-9 years old will have a blast playing the online games and solving hundreds of educational puzzles. CodeSpark Academy offers a 7-day free trial and access for up to 3 children per account.
Online coding and educational games with CodeSpark Academy
CodeSpark Academy is one of the best learn-how-to-code online app. The educational puzzles and games are suitable for kids of 5-9 years old.

CodeSpark Academy makes learning the basics of coding fun, easy and engaging!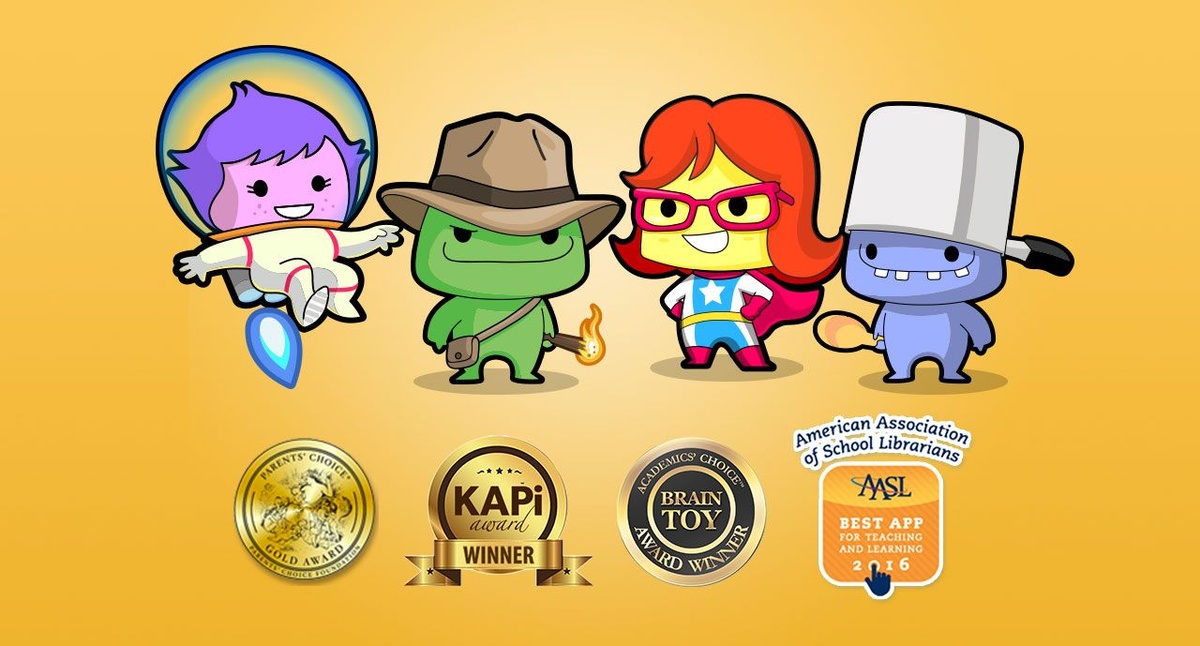 ---
Write your own story
Your imagination is the limit. Come up with a character or use a family member as a protagonist, then come up with an awesome story that they are a part of. Play a word game together to build the story, or let your kids brainstorm a plot for an exciting adventure or scary tale by themselves.

It can be in the form of a book, a script for a play or movie (that you can act out or film together! Check out idea number 17) or any other form of storytelling you want to try.

Storytelling can improve your child's imagination and let them use creative thinking, problem-solving and language skills while having fun.
---
Make a dollhouse or mini animal house
Even on rainy days, you can always make time for fun with your kids! If you have some mini toys or dolls at home, grab a box or find a spare cupboard where you can build them a little house or apartment.

You can use materials from around the house to make furniture like beds and chairs, or even little other things like cutlery, plates and food that you can sculpt out of polymer clay (if you have some at home).

I used to make dollhouses and crafts a lot as a kid, and it was my favourite crafting activity. I once even made a mini washing machine for my dollhouse.

To try this indoor activity with your kids, check out My Froggy Stuff on YouTube to get inspired. They make lots of videos on toys and doll crafts and have the best ideas to keep the kids entertained and engaged.
---
Explore sensory art
One of the interesting indoor activities for kids is exploring sensory art. If you're looking to keep your toddlers, preschoolers and older kids occupied during summer holidays or on rainy days, try these fun creative indoor activities and school holiday ideas at home!
Put some music and let your child get creative! You'll see what masterpieces and original designs your kids created with the help of music. You can play several different songs and use different materials, from crayons to paint to markers.
You can then display those artworks on your fridge, hang up in a gallery spot somewhere around home or frame them to hang in your kids' bedrooms. It's an amazing rainy day activity for preschoolers and older kids!

An extra tip: divide your piece of paper into four parts, each part being a drawing for a different song. Then run this indoor activity and discuss any similarities you see in the artworks with your kids. How did each song differ, and how did it show in the artwork? How did each song make you feel?
---
Let kids come up with collage ideas
There are so many kids creative activities at home to keep your kids busy, and this is one way you can do it. Let them use old magazines and flyers when creating their amazing collages. This will become one of their favourite school holiday craft ideas!
After finishing these creative projects, the kids will love seeing what they've created on the fridge because it's like having artwork right there in front of them or frame them to hang in their bedrooms. If collages need more fun then try adding some glitter for extra bling, but keep in mind things can get pretty messy when glitter's around!
---
Draw your fantasy
Unicorns don't exist, but they can in your imagination and your drawings. Give your kids a piece of paper and a pack of pencils and let them draw their wildest dreams. A unicorn in space? Why not?

If your child is not much of a drawer, try colouring instead. There are lots of resources online, including free printables to use with your kids.
How to Draw a Cute Unicorn in a Few Easy Steps
Learn how to draw a cute unicorn. This step-by-step tutorial makes it easy. Kids and beginners alike can now draw a great looking cartoon unicorn.
Easy Drawing Guides
---
Try origami
Try the Japanese art of paper folding - origami. Research has shown that origami helps develop hand-eye coordination and fine motor skills, and it also improves concentration. There are heaps of awesome tutorials online for your family to try, like these here:
---
Run a cooking competition
Why not let your kids learn some useful cooking skills while having fun? Hold a Masterchef style cooking competition to see who can make the healthiest meal for dinner or the most mouth-watering dessert.
Cooking with kids can have lasting impacts on their healthy eating habits, their food preparation skills, independence and teamwork skills (when cooking together with others). Raising Children have some great tips for cooking with kids of various ages to make the best out of this indoor activity.
We all know that kids love a tasty lunchbox treat, and if you're looking for some easy ideas to pack one in your child's school bag or just as a snack while you stuck inside, then check out these 10 different easy recipes to cook with kids here.
Some sweet tooths might go with the best hot cross bun recipes while others will prefer something savoury snacks and healthy vegetable muffins.
---
Ready, Set, Action... Make a movie!
Do you have an aspiring actor in the family, or do you want to simply act out your favourite story or play? You don't need incredible costumes or props, a fantastic location or professional equipment and editing software to make a movie at home. Rather you'll need just ideas and some awesome people around!
The iMovie app is free and easy to use on Apple devices. Kids can try their hand at editing and putting footage together to make a film. It's great fun too, with cool templates to edit and funky music to add to your movie.
This is an excellent indoor activity for the whole family that makes happy memories you can look back on in the future. So grab a camera and get acting!
Best Netflix Movies For Kids
Here's 10 best movies on Netflix for kids to watch on a weekend or school holidays. Find ratings and parental suggestions for the best children's movies streaming on Netflix.
School Holidays
---
Organise an indoor treasure or scavenger hunt
Before trying this indoor activity, it's a good idea to familiarise yourself with the difference between a treasure hunt and a scavenger hunt.
In a treasure hunt, a set of clues guides you to find a specific item or 'treasure'. These clues can be presented at the start of the game or hidden around the house for each player to find.
In a scavenger hunt, there are items in a list that must be found. The aim of the game is to 'scavenge' and find the most items within a time limit.
You can try to run your own treasure of scavenger hunt or mash the rules together to create your own special twist. The whole family can participate in the indoor scavenger hunt! The aim is to have great fun and not playing the game perfectly.
---
Give the kids' bedrooms a makeover
Move the bed, hang up a picture or photo, reorganise the desk, etc. - there are so many ways you can change up your child's room. Or you can just clean together with the kids.
Either activity can be made fun and the skills learnt can be useful later in life. It's excellent teaching your kids to be tidy and organised from an early age as it will improve their habits in future study, work and everyday life.
You can put on a movie or some music to make the process more enjoyable.
---
Plan for your next school holidays
With so many exciting places to visit with family, why not get planning for your next kids holidays or weekend together when its bad weather? Check out our extensive directory of kids' activities, indoor school holiday activities, places to go with family and events.
Activities for kids of all age groups and abilities
Find fun family activities, holiday activities for kids, active indoor activities, rainy day activities, indoor school holiday activities and school holiday programs near you.
School Holidays
A quick tip: consider allowing each member of the family to choose one fabulous destination they want to visit in particular locations and try to create an itinerary with those places. You can map out your adventure and teach the kids some vital geography skills.
---
Explore engaging online classes
If you are looking for online classes that are both creative and educational, look no further than our selection of online classes and workshops for kids! From online learning activities to coding and robotics, we have a class that is perfect for your little ones.
The online music lessons are an amazing way for kids to learn about rhythm and melody, and the online ballet and dance classes are a perfect way to get them moving! If you kids love art, the online art classes offer a chance to explore their creative side, while the yoga classes provide a chance to relax and de-stress.
---
We hope you've found this list of things to do in the school holidays at home and fun indoor activities for kids at home helpful. There are so many fun indoor things to do, and we're sure your little ones will enjoy them all. Be sure to try out some of the school holiday and family fun ideas we shared, and let us know which ones were your family's favourites! What are your favourite fun indoor activities at home that you love doing?
If you enjoyed this article, share it with your friends and family, so more kids can have fun at home if it's bad weather!
---
Our website is supported by you, our reader!

Sometimes, we may earn small affiliate commission when you click through the affiliate links on this page and buy something.

If you have any question, please get in touch with us.